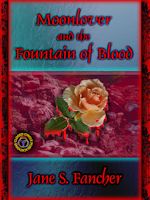 When I was in college, I began to put together, at least in my head, a research paper on Science Fiction as modern day fairy tales. I never got the chance to do the paper . . . university and I parted company due to lack of funding, :biggrin: . . . but the interest in the part fairy tales play in the . . . socialization . . . of the human species remains.
I'm not what you'd call a short story person. I've written only a handful, but when DAW requested one for their anniversary anthology, I immediately thought of the Tamshi Tales mentioned in the RingDancer books. Beauty and the Beast, and before that, it's Greek counterpart, Cupid and Psyche, has always been one of my favorites and was a natural, given the world elements already introduced in the books. In a way, it should probably be dedicated to Dancer.
At any rate, feel free to ask my anything and I'll answer to the best of my ability. And if you have a request for the next Tamshi Tale . . .